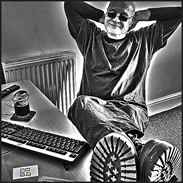 Do I look like a beginner?
Do you think I've simply built a website and set up as an 'expert'?
I'm very experienced and highly skilled in art direction, graphic design, artwork production and printing. Advertising campaign planning, concept, design and production; studio and work-flow management; lithographic printing up to A0+; booklet and magazine design and production; brochures, leaflets, flyers, posters, stationery design and printing; artwork and prepress digitizing; newspaper design, layout and page make-up; press advertising, adsetting; every kind of artwork for print; outsourcing; print buying; client targeting; marketing and sales support.
I started in graphics in Buckinghamshire in the 70's producing 1 and 2 colour web-offset tabloid newspapers, freesheets and quarter-fold magazines – before eventually moving to London where I spent years commuting to London Bridge to make the daily grind into work.
Graphics was a 'closed shop' back then particularly in newspapers and periodicals – you could produce all the artwork you liked but you couldn't get it published unless you were a union member. All artwork had to be produced by a recognised 'office' and rubber-stamped with a 'chapel number' before it could be printed.
This meant that print designers didn't produce artwork – instead they produced a visual for client approval and a page layout (with a detailed type specification) which was sent to a keyboard-operator to typeset and a compositor to assemble into final artwork.
Journalists would submit their typewritten copy which then had to be typed again by a keyboard-op (and proof read and corrected) because they weren't allowed to touch a typesetting keyboard – unbelievable but true.
This page is being updated - it'll be published soon.